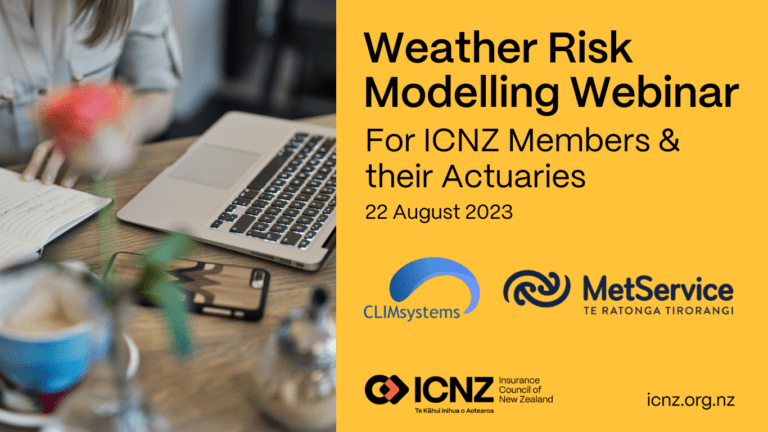 Tuesday 22 August 9:00am to 12:30pm
Weather Risk Modelling Webinar and Workshop for General Insurance Actuaries & Finance Teams, Pricing & Risk Modellers and Property Underwriters
Gain the Knowledge to Better Future Price & Underwrite New Zealand Weather Perils as we discuss the complex Science of Hindcasts and Climate Change
Cost: $225 per person
| | | |
| --- | --- | --- |
| ANZIIF CPD 3 points | NZSA CPD | CAANZ 3 CPD Hours |
The Insurance Council has partnered with MetService & CLIMSystems to bring you a comprehensive information workshop that will explain the general weather basics, the weather predominantly affecting New Zealand, the changes we will see with the various phases of the El Niño Southern Oscillation (ENSO) and the extra volatility we can expect with warming sea temperatures as part of climate change now and going forward. The Workshop will outline some of the modelling tools that weather peril pricing experts may want to consider.
The Programme
09:15    Introduction – John Lucas, ICNZ
09:20   Met 101 – Chris Webster, MetService
A brief Met101 – understanding New Zealand's weather.
The types of weather impacts that can lead to insurance claims
The predictability of different weather phenomena, with particular reference to NZ.
10:00     Questions
Five-minute break
 10:15     Seasonal climate outlook – Georgina Griffiths, MetService
A very brief discussion of the main climate drivers in the NZ region (ENSO, SAM, MJO, TASMAN SEA, blocking High relevance) – which ones should you care about most at different times of year?

Live seasonal outlook, eg likely to focus on intense El Nino and Southern Ocean indicators
Live Rain and temp forecasts for NZ for the coming 3 months
Questions (10min) 
10:55    Questions  
Five-minute break
 11:10      Our future climate and weather – Colin Roberts and Peter Urich, CLIMsystems
Overview of climate change projections and modelling for IPCC climate scenarios.
Overview of how these projections are used to derive climate change signals and how those signals are applied to baseline (MetService) data to give an insight into future climate changes for the perils of interest.
How the uncertainty in climate projections is handled.
An overview of some climate change signals and trends for NZ and an overview of the interconnectedness of all the perils (e.g. increases in rainfall associated with increases in temperature and hence higher evapotranspiration leading to an increase in water deficit).
11:50     Questions
12:00    Summary of services and tools for risk professionals – Peter Fisher, MetService 
Hindcast
Seasonal
Historical data
Real time data
Spot forecasts
Consultancy & briefings
Dashboards
Climate risk analysis reporting
12:20     Questions 
12:30    Workshop concludes
| | | |
| --- | --- | --- |
| ANZIIF CPD 3 points | NZSA CPD | CAANZ 3 CPD Hours |
Cost $225.00 plus GST per person
If you encounter any issues or questions, please email/phone John Lucas [email protected] 027 441 1283